Tangles: A Story About Alzheimer's, My Mother and Me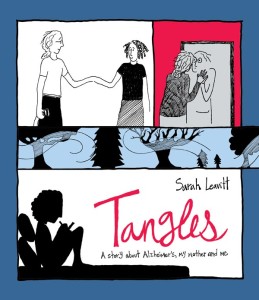 When my mother Midge was diagnosed with Alzheimer's at 55, I knew right away that I wanted to write about the unknown territory my family was entering – disorienting, devastating and strange, but also full of tenderness and love. Over the next six years I collected notes and sketches, and a few months after Mom died, I sat down on the floor with my notebooks piled around my, and cut and pasted together words and images to create the first rough version of Tangles. In Tangles my goal was to create an unsparing documentation of our family's journey, including not only the grief, anger and fear, but also the moments of love and joy and even some dark humour. I was eager to share my experience, but quite unprepared for the enthusiastic response the book has received from critics and readers since it was first published in 2010 by Freehand, a small press in Alberta. Over the past five years, Tangles has been published in the US, UK, France, Germany and Korea.
Currently I'm working with Giant Ant Media on a feature length animation of Tangles. Here's the amazing trailer they made:
Selected reviews
Not only a spot-on portrait of the dark comedy and vast sadness that Alzheimer's contains, the book is a fitting tribute to Leavitt's mom. — Vanity Fair
In framing her loss and her uncertainty through the lens of love, Leavitt manages to find a fragile resolution: conditional, moving, rigorous and heartbreaking at once. — LA Times
The narrative is human, honest, loving… Not simply the story of a disease, but of the flawed, complex, intelligent people whose lives it transformed. — Kirkus Starred Review
The fabric of the Leavitt family is beautifully woven… In a scene with Sarah sitting beside her mother in the garden she can no longer attend to, Midge's admission to feeling that she has lost all her own sweetness underscores poignantly what is at this memoir's core — the observed and treasured remembrances of a gentle, vibrant individual. — The Globe and Mail
As the rate of Alzheimer's continues to increase as the population ages, Tangles joins Jeffrey Moore's novel The Memory Artists and Sarah Polley's film Away from Her at the head of a list of illuminating and much-needed artistic responses. — National Post
Losing words and stories proves particularly debilitating for a woman who was once so enthused by them — with her husband, fellow teacher Rob, she "built a life of books and art and creativity." Leavitt responds in kind in this heartbreaking memoir… — The Guardian
Advance praise
"An extraordinarily moving and vivid account, in text and cartoon-style pictures, of the life and death of an Alzheimer's patient." — John Bayley, author of Elegy for Iris
"Sarah Leavitt uses the medium of comics to tell her story with more economy and power than either words or pictures could muster by themselves. She brings a good eye for the telling detail—the small observations that reveal larger truths—to her memoir of a family in crisis. Tangles is the work of a perceptive, creative, and honest storyteller." — Brian Fies, author of Mom's Cancer
"Brimming with humility and insight, Leavitt proves herself a skilled and unflinching memoirist. Her spare, evocative illustrations and the tender restraint of her prose will leave you breathless, heartbroken and profoundly grateful." — Nancy Lee, author of Dead Girls
Awards and recognition
US: Kirkus Starred Review, Vanity Fair, LA Times, Library Journal and Jewish Daily Forward reviews, Huffington Post slideshow of images from Tangles
UK: interviews and reviews in The Guardian, The Independent, The Irish Independent, The Jewish Chronicle, The Glasgow Herald and more — see the News and Reviews category.
Canada: Tangles was a finalist for the 2010 Writers' Trust of Canada Non-fiction Prize (first graphic narrative to be a finalist in this category); the 2011 BC Book Prizes, Hubert Evans Non-Fiction Prize; theBook Illustration category of the 2011 Alberta Book Publishing Awards; and the 2011 Alberta Readers' Choice Award.Tangles was included in the Globe and Mail's top 100 books of 2010 and Maisonneuve Magazine's top 10 for 2010, and winner of the CBC Bookie award for Best Comic or Graphic Novel.
France: See Steinkis the French publisher's website for selected French reviews